Featured products
HVAC solutions for comfort and control
Innovative technologies that provide effective and cost efficient solutions
Quick to install products that provide industry-proven solutions
High performance, reliable miniaturized components for space saving
HVAC systems designed to withstand harsh conditions and reduce corrosion
Product solutions to withstand thermal shock, condensation and humidity
Keep ahead of the trends for increased HVAC comfort and control
Innovation in technology is enabling systems to run more efficiently and cost-effectively and our solutions from TE will allow you to stay ahead. Explore the TE Connectivity range to see how we can help you with your heating, ventilation and air conditioning designs.
NEW Interactive Brochure
Explore our NEW Interactive eCatalogue showcasing our broad range of TE Connectivity products.
DEUTSCH Connectors
Wide operating temperature range & silicone rear wire and interface seals allow these connectors to withstand extreme temperature and moisture.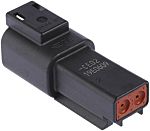 Cable Markers
Designed for the most rigorous indoor or outdoor use, TE offers a wide range of cable markers for a wide range of industries and applications.