HDMI Cable Buying Guide
Explore our complete HDMI cables guide and learn how they are used and what version is best for your application.
What is an HDMI Cable?
HDMI cable is used for the connection and transfer of audio and video to a variety of HD equipment, including the Blu-ray player, PVR, and television.
SCART leads were previously used for such purposes. However, the development of HDMI allowed for the transfer of HD sound and vision for optimisation of the entertainment experience. There is a wide variety of HDMI cables to choose from, with only the latest models providing support for 4K TV and HDR (High Dynamic Range). We'll share the best HDMI cable buying options in this guide.
What Does HDMI Stand for?
HDMI stands for High-Definition Multimedia Interface. It is a type of proprietary audio/video interface used for the effective transfer of uncompressed video data and compressed or uncompressed digital audio data from an HDMI source device to a range of audio and visual systems. The majority of modern-day systems only allow for connection via HDMI cables. HDMI is used in the commercial AV sector and is the preferred cable connection for home entertainment systems. This single cable solution allows for the convenient connection of devices such as games consoles and set-top boxes to your television screen.
HDMI Adapters and Connector Types
A basic cable connection is all that is required for devices with an HDMI port. However, there is a range of accessories that can be used to customise HDMI connectivity and fulfil special HDMI adapter requirements. The adapter is required for the connection of portable HDMI devices fitted with small ports, for example. Adapters are also commonly used for the connection of old electrical devices.
With the correct adapter, the following connection types can convert to HDMI:
There is also a variety of HDMI connection types, available in male and female versions and suitable for use in different environments. Most cables use HDMI type A, with alternative versions being less popular. For instance, home entertainment systems, televisions and computer monitors commonly feature HDMI A cables. Outdated HDMI connection types have also been gradually phased out.
The HDMI connector is the standard interface for the connection of audio-visual equipment. It is common for digital devices such as televisions and Blu-ray players to feature a variety of ports, allowing for the connection of different HDMI cable types. When connecting devices, it is important to ensure that the HDMI cabling is firmly and safely connected.
You can learn more about the different types and specifications of HDMI connectors in our comprehensive guide.

Please see below for a handy diagram showing the different types of HDMI connectors.
Standard HDMI Connectors (Type A)
These standard HDMI connectors are used for the widest variety of digital audio/video connection purposes. The plug or male connector has outer dimensions of 13.9 x 4.45mm, while the receptacle (female) connector has inside dimensions of 14 x 4.55mm. The Type A adapter features 19 pins which allow for the transfer of SDTV, EDTV, HDTV, UHD, and 4K modes.
Dual-Link HDMI Connectors (Type B)
This type of connector also allows for the transfer of dual-link DVD-I video. However, type B HDMI connectors are not currently used in any mainstream consumer products, because the development of the HDMI 1.3 allowed for increased single link speed. Nevertheless, you may still find references to the type B adapter within the electronic specifications.
Mini HDMI Connectors (Type C)
This mini HDMI connector is smaller in size than the type A connector, with dimensions of 10.42 x 2.42mm. However, it does still feature the 19-pin configuration. These mini HDMI adapters are commonly used for the connection of portable devices such as the DSLR camera, camcorder, and large tablets. You can use a type A to type C cable for connection to the type A connector.
Micro HDMI Connectors (Type D)
Type D HDMI connectors are the smallest and are smaller in size than type A and C HDMI connectors. However, they still feature the common 19-pin configuration, albeit in a slightly altered format due to the limitations of the microformat. Such connectors have dimensions of 5.83mm x 2.20mm, being similar in size to the micro-USB connector and significantly smaller than the HDMI type A plug or socket.
Automotive Connection Systems (Type E)
The type E HDMI connector has been designed specifically for automotive applications. It was introduced at the same time as the HDMI version 1.4.
DVI to HDMI Adapters and Connectors
These adapters have capacity for the conversion of DVI into HDMI output. They are ideally suited to HDTV gaming, home-theatre entertainment, and other applications. Being backwards compatible with DVD-I and DVI-I signals, the cable can be used for the connection of DVI-equipped devices to HDMI-equipped HDTV or displays.
HDMI Splitters
HDMI splitters offer the perfect solution for the connection of multiple devices to one source and connection in instances when there wouldn't otherwise be sufficient spots. The splitter takes one source and transfers it to multiple devices. This might be necessary for instances where the digital devices are in separate locations and signal duplication is required for transfer through multiple HDMI cables. There are also splitter switches with multiple 'ins' and 'outs'.
4k HDMI Splitters
These splitters are designed for the effective transfer of one single source of digital high definition video to four displays simultaneously. You can use these splitters for the connection of devices including DVD players, satellite set-top boxes, HDMI monitors, and displays.
2-Way HDMI Splitters
These splitters allow for the simultaneous conversion of one HD source to two digital displays. They are used across a variety of applications including video conferences, home cinema, and public transportation displays.
3-Way HDMI Splitters
These splitters allow for the connection of a single HD TV or projector without an HDMI male to male cable for the reception of signals from up to three HD sources with one display. The user can easily switch between the HDMI devices including DVD players and games consoles.
4-Way HDMI Splitters
These splitters allow for connection with up to four digital devices. They can distribute one HDMI source to four HDMI outputs. You might use such a splitter for the connection of a set-top box or Blu-ray player to four separate television displays.
HDMI Splitter Boxes
HDMI splitter boxes allow for the connection of entertainment systems to up to four electronic devices. Many of these boxes feature adaptors, providing 4K support.
HDMI Cable Features and Versions
HDMI cables are the preferred choice for the connection of digital entertainment systems due to the associated audio-visual quality. There are four main varieties of HDMI cables, excluding those which are designed for automotive purposes. These are the standard, standard with ethernet, high speed, and high speed with ethernet. The type of cable must be clearly displayed. A number of cable varieties have been introduced over the years and the physical connector type has remained the same across the range, although there have been updates to the HDMI cabling capabilities. You should be aware that each successive type of HDMI cabling is compatible with previous versions.
HDMI ARC
High Definition Multimedia Interface Audio Return Channel, or HDMI ARC for short, enables the 'upstream' and 'downstream' of signals via a single HDMI connection between the TV and any AV devices featuring ARC. This means that a single remote control can be used across the range of connected devices for the operation of common digital functions. HDMI ARC is supported across a complete range of televisions, soundbars, and receivers.
HDMI CEC
HDMI CEC, also commonly referred to as CEC (consumer electronics control), is a method for the remote control of connected devices. You should be aware that this feature is typically switched off on AV devices which are fresh from the box. It's also worth pointing out that devices produced by different brands don't always have CEC connectivity.
MHL HDMI Cables
MHL (Mobile High-Definition Link) HDMI cables allow for connection between a variety of digital devices and displays. They feature a unique HDMI input, which is compatible with a range of televisions and A/V receivers and is designed for connection with devices such as the smartphone and tablet. It is a particularly useful form of connection for users without cable or internet as it allows for the projection of entertainment where there is no Wi-Fi access. Additional advantages of MHL include the avoidance of lagging and the ability to transmit control data.
HDMI 1.0
This HDMI cabling version was introduced in December 2002 and has the capacity for the connection of a digital video signal with a two-channel audio signal via the single cable.
HDMI 1.1
As previously mentioned, each successive type of HDMI cabling offers the same capabilities as the preceding version. However, new functions are added each time. Introduced in May 2004, the HDMI 1.1 cable offers the capacity for the transfer of Dolby Digital, DTS, and DVD surround signals, in addition to up to 7.1 channels of PCM audio.
HDMI 1.2
This cabling version was introduced in August 2005 and offers the capacity for the transfer of SACD audio signals in a digital format from the compatible player to a receiver.
HDMI 1.3
Introduced in June 2006, this cabling variety enables the projection of deep colour and enhanced support for the xvYCC colour space. HDMI 1.3 allows for Dolby TrueHD and DTS-HD Master Audio output. It offers support for increased bandwidth and transfer speed, expanded screen resolution, and lip-syncing. This cabling version also features a mini-connector, suitable for a variety of compact digital devices.
HDMI 1.4
This cabling variety came to market in 2009. It offers support for the HDMI Ethernet and Audio return channels with enhanced digital connectivity and the effective transfer of audio. HDMI 1.4 also enables compatibility with 3D Blu-ray Disc standard and video projection in 4K resolution.
HDMI 2.0
Also referred to as HDMI UHD, this cabling variety was released in September 2013.

HDMI 2.0a

This cabling version was released in April 2015. It added support for High Dynamic Range (HDR) video with static metadata.

HDMI 2.0b

Introduced in March 2016, this cabling variety initially supported the same HDR10 standard as HDMI 2.0a. However, in December 2016, support was added for HDR video transport with extended static metadata.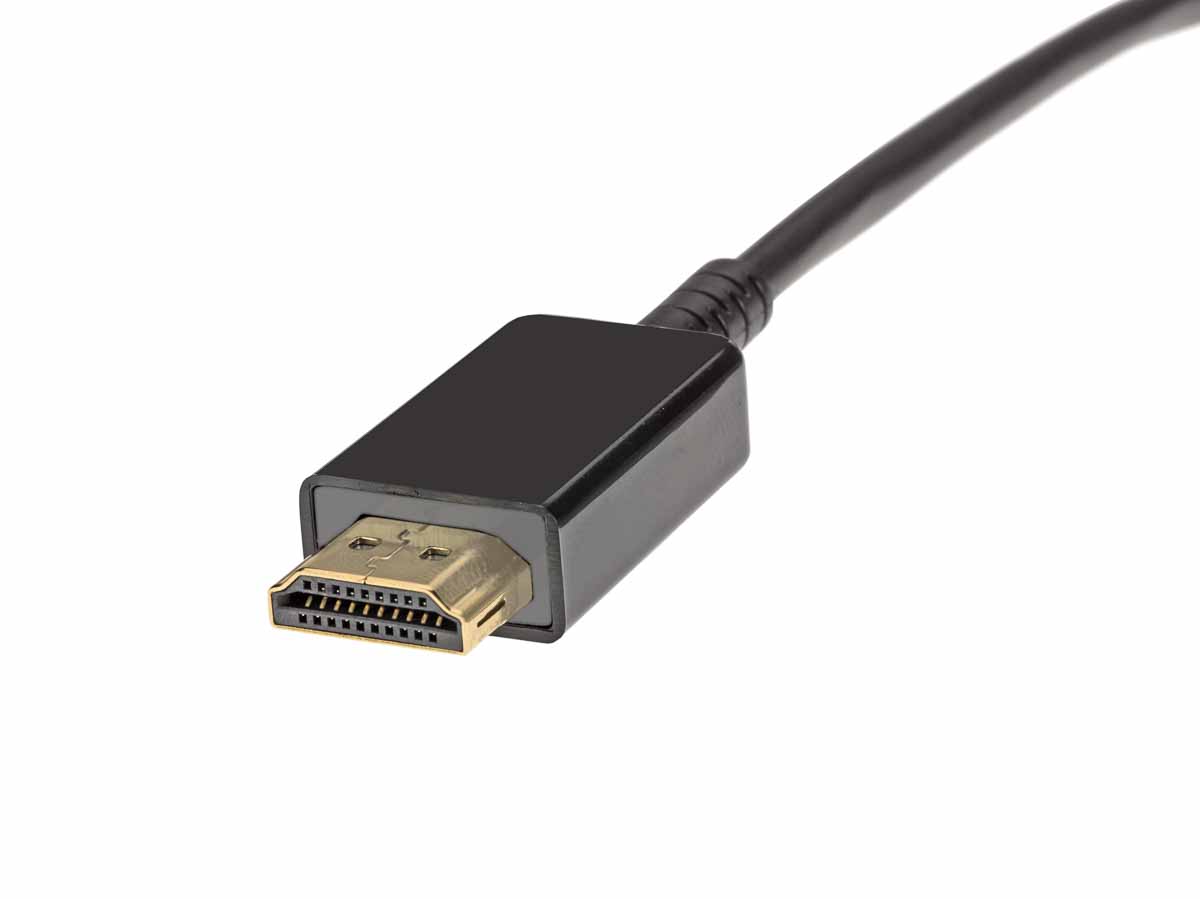 Key features of HDMI 2.0:

Enhanced bandwidth capacity of 18.0 Gbit/s
Support for the Rec.2020 colour space
Up to 32 audio channels
Dual video streams for multiple users on the same screen
View Range
HDMI 2.1
HDMI 2.1 arrived in 2017. This updated HDMI cabling provides support for higher resolutions and refresh rates such as 4K 120Hz and 8K 120Hz.
Other types of support provided by HDMI 2.1 include:
Enhanced colour: projection of wide colour gamut at 10, 12, and 16 bits
Expanded HDR: support for HDR versions subsequent to Dolby Vision, HDR10, and Hybrid Log Gamma
Audio: enhanced support for object-based audio formats, including Dolby Atmos and DTS:X
Gaming: enhanced support for the variable refresh rate and improved rendering of 3D graphics for more fluid and detailed gameplay
Cabling: increased bandwidth capacity of up to 48 Gbps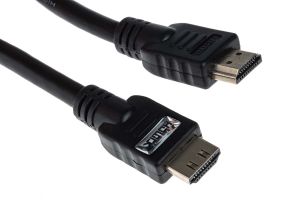 HDMI Cable Version Comparison
| | | | |
| --- | --- | --- | --- |
| HDMI Version Type | Max Data Rate | Transmission Rate | Compatible Video Formats |
| HDMI 1.0 | 3.96 Gbit/s | 4.95Gbit/s | 720p & 1080p |
| HDMI 1.1 | 3.96Gbit/s | 4.95Gbit/s | 720p & 1080p |
| HDMI 1.2 | 3.96Gbit/s | 4.95Gbit/s | 720p & 1080p |
| HDMI 1.3 | 8.16Gbit/s | 10.2Gbit/s | 720p, 1080p & 3D video |
| HDMI 1.4 | 8.16Gbit/s | 10.2Gbit/s | 720p, 1080p & 3D video |
| HDMI 2.0 | 14.4Gbit/s | 18.0Gbit/s | 720p, 1080p, 3D video & 4K |
| HDMI 2.0a | 14.4Gbit/s | 18.0Gbit/s | 720p, 1080p, 3D video & 4K |
| HDMI 2.0b | 14.4Gbit/s | 18.0Gbit/s | 720p, 1080p, 3D video & 4K |
| HDMI 2.1 | 42.6Gbit/s | 48.0Gbit/s | 720p, 1080p, 3D video, 4K & 10K |
FAQs
Do HDMI Cables Carry Sound?
Although HDMI cables were originally designed for the transfer of video, subsequent additions have since allowed for the handling of stereo audio and multi-channel surround sound audio. As mentioned previously, the latest versions of HDMI cabling allow for the transfer of audio return channel (ARC) and have the capacity for multiple audio formats, including Dolby Tru-HD and DTS-HD.
How Do You Know Which Version an HDMI Cable is?
Some cable manufacturers apply model numbers and attach labels for easy identification of the different versions. You can also establish the version number by checking the supported resolutions and refresh modes. Some of the early versions of HDMI cabling have the capacity to support the bandwidth of later versions.
What Does High Speed Really Mean?
Standard HDMI cables, otherwise referred to as category 1, have undergone HDMI Licensing testing to perform at speeds of 75Mhz. This equates to a 1080i signal. High-speed cabling has the capacity to perform at speeds of 340Mhz. This is the highest level of bandwidth which can currently be transmitted via HDMI cabling.
What Do I Do if My HDMI Cable isn't Working?
There is a number of reasons why audio and visual signals may not be effectively transferred via HDMI cabling. The first check you should perform is to ensure the use of the correct input. This will involve a visual inspection of the ports at the back of the television or amplifier to confirm connection through the correct port. You should also ensure that the connected device is switched on. Other connectivity issues may be resolved through the disconnection and reconnection of the HDMI cable.
Additional connectivity solutions include:
Alternating the component turn-on sequence

Trying a different HDMI input

Resetting the source device's video resolution output setting

Checking and updating the firmware as necessary
Can HDMI Cables Be Fixed or Repaired?
It's advisable to arrange for the assistance of a professional technician to remove HDMI cabling from walls. However, common household tools and supplies can be used to repair a broken connector.
Steps to repair an HDMI connector are as follows:
Carefully inspect the cabling and ensure that the connector is definitely the issue

Unplug the cabling from the device and use a pair of wire cutters to disconnect the connector from the cable tip

Splice the appropriate type of connector onto the HDMI cable

Connect the cable with the HDMI receiver